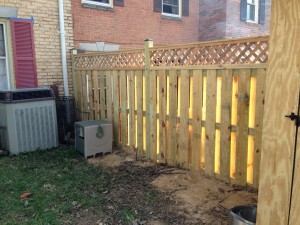 On April 26th and 27th employees from Hercules Fence participated in the National Rebuilding Day in Montgomery County. Our employees donated both materials and labor to help build a new wood fence for one of the 17 houses in the program.
National Rebuilding Day is a program through Rebuilding Together that allows volunteers from companies, associations, faith-based groups, schools, and community volunteers to breathe new life homes for families in need. This past National Rebuilding Day had 24 organizations give over 600 volunteers to help repair 17 homes as well as make crucial upgrades on two buildings for the non-profits Cornerstone Montgomery and the Jewish Foundation for Group Homes. All repairs and projects are completed at no cost to any of the recipient families. The residents of these new homes are able to live independently, safely, and securely thanks to the hard work of the volunteers. Several families are no longer in fear of becoming homeless after National Rebuilding Day. This project also helped to establish affordable housing within Montgomery County.
Funds for the projects are raised by:
Donations
Gifts of materials and labor
Sponsorships
Hercules Fence is proud to get involved with the community in which we serve. We believe that staying active in the construction community will help us not only stay leaders within the fencing industry, but help to build long-term client relationships as well. We donate only the best materials, the same materials we use for all of our residential and commercial projects. Hercules Fence has been serving the Maryland area since 1955, specializing in residential, commercial, and high security fencing. Our fences range from chain link fencing to anti-terrorism cable. Our skilled technicians will work with you to ensure you receive the fence that suits your exact needs. For a list of all services we provide, click here.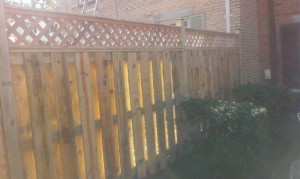 We have 6 convenient locations, including our Jessup location, to assist us in serving the communities in the Maryland, DC, Virginia, and North Carolina regions. For a list of all contact information for our 6 locations, click here. You can also call us toll free at (800)-883-3623. Follow us on Twitter, Google+, LinkedIn, and Facebook today.
If you are interested in getting involved with Rebuilding Together and the next National Rebuilding Day, e-mail program manager Emma Byrnes at [email protected]
Sources: