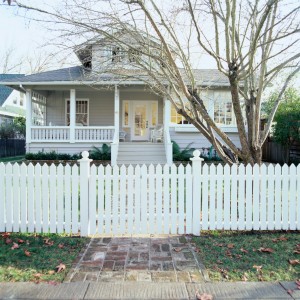 A residential fence can bring plenty of benefits to your property and yard. However, if you attempt to install the residential fence on your own, you could run in to a number of problems. Many homeowners fail to realize what kind of mistakes can be made when it comes to installing a new residential fence as well as how much money those mistakes could cost them. While you may believe you are saving yourself money by conducting the installation on your own, you could be paying more to fix the mistakes you made during the process.
One of the biggest and most serious mistakes that a homeowner can make when installing their own residential fence is mistaking property lines. If you install your new fence along the property lines of your neighbors, you could be faced with a lawsuit and fines. You will also have to pay to have the fence removed and then re-installed. Some homeowners may also not understand how important the fence material can be. If a homeowner fails to have a proper understanding of fencing materials, they could be faced with a damaged fence due to weather.
Another serious mistake that can be made with a residential fence is the lack of anchor points. If your anchor points aren't installed properly, you could be faced with an unstable and unreliable fence. A fence can also become unreliable if the fence wasn't installed properly. Gaps in your fence, unaligned locks, and other mistakes can lead to a fence that won't close properly or won't stand evenly.
At Hercules Fence, we specialize in the installation and maintenance of several fence styles throughout the Maryland, Virginia, and North Carolina areas. Residential fencing provides a welcoming appearance to complement your home. Our sales team can offer you many selections to choose from to accommodate your privacy, semi-privacy, and decorative needs, and our professionals use only the highest quality materials to install your fence at a price that is reasonable and affordable. We also specialize in commercial fencing to keep your business safe and secure while also looking professional and welcoming.
To get started with your residential fence for your home, call us today at 1-800-883-3623. You can also visit our contact page to find a full list of our locations and phone numbers.
Follow Hercules Fence today on Google+, Facebook, Twitter, and LinkedIn.