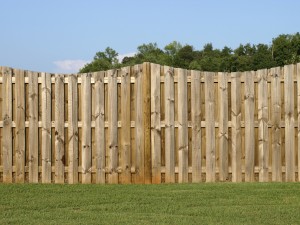 When the concept of a fence began almost 400 years ago, the list of materials to use was limited. While a wood fence has been used to protect and highlight a home and property, the style has evolved to meet the needs of the homeowner. Today, homeowners can choose from several different styles of wood fence to create the perfect look for their homes.
Picket
When you imagine the traditional home that meets the American dream, you are probably imagining a picket fence. This type of fence includes pointed pickets that tend to reach three to four feet in height that are spread apart rather wide. While this fence is not typically intended for security or privacy purposes, it is a great choice when it comes to aesthetic purposes.
Vertical Board
If you are looking to add a level of privacy to your yard, this style is best for you. This wood fence uses straight planks placed close together to prevent those on the street from seeing into your yard. It can be built to reach any height and it can also cut down on the amount of wind you experience in your yard.
Lattice
Want privacy but don't want to give up natural light? This style of fence allows you to have the best of both worlds. Perfect for patios, gardens, and pools, this wood fence provides you with privacy without cutting you off from the outside world.
Wood Fence Styles with Hercules Fence
At Hercules Fence, we specialize in the installation and maintenance of several fence styles throughout the Maryland, Virginia, and North Carolina areas. Residential fencing provides a welcoming appearance to complement your home. Our sales team can offer you many selections to choose from to accommodate your privacy, semi-privacy, and decorative needs, and our professionals use only the highest quality materials to install your fence at a price that is reasonable and affordable. We also specialize in commercial fencing to keep your business safe and secure while also looking professional and welcoming.
We have been involved with projects that range from government buildings to airports. Our fences can be found at The National Zoo, NASA, Harbor Park Baseball Stadium, and BWI Airport, to name a few.
To get started with fall fence maintenance by Hercules Fence, call us today at 1-800-883-3623. You can also visit our contact page to find a full list of our locations and phone numbers.
Follow Hercules Fence today on Google+, Facebook, Twitter, and LinkedIn.