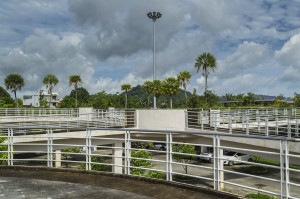 For your business, everything has to be to ship shape in order to run efficiently and that also counts for your fencing. Commercial fencing can often be overlooked as a minor aspect of running your business, but fence installation mistakes can lead to a huge loss of funds and even customers. Having a stand out fence makes your company stand out against the competition and can also save you money in unnecessary repairs, stolen goods, or loss of customers. Here are some common mistakes made with commercial fencing.
Miscalculations in your commercial fencing installation
Errors in measuring are a common, but avoidable mistake in fence installation for commercial fencing. This can often happen when someone tries to install a fence without any real experience. The do-it-yourself style can work when it is just a small plot of land, but with commercial property there is an added level of difficulty and land to cover. A DIY fence installation will show to potential customers and may even make your commercial property vulnerable to thieves. Additionally commercial fencing not installed by professionals will likely deteriorate much faster, thus costing more in the long run.
What permit?
Don't be burned by forgetting to secure building permits or by ignoring ordinates about commercial fence installation. Only the professionals know the details and can help answer questions about your particular business and what commercial fencing is best suited for your space. Without a call to the pros you risk abandoning your investment if it is discovered to be not up to code.
Mistakes when it comes to terrain
Slopes that are nearly invisible to the eye are sure to be seen once you're trying to install a fence on them. Obviously flat terrain is the ideal place to build your commercial fence, but not all properties are built the same. Accommodating to differences in the terrain is tricky, especially without any experience in fence installation. Here's a tip: leave it to the professionals.
Looking to correct someone else's fence installation error or just want to talk to a professional about commercial fencing? Look to Hercules first!
Hercules Fence has six offices ready to serve your fence needs. Whether you live as far north as Baltimore or south to Raleigh Market, Hercules has an office near you. Our experienced sales and installation staff can handle any fencing projects. And if you're looking to buy materials, Hercules can ship our product line anywhere in the world. Take a virtual stroll through our website. Check out the latest fence products along with the "Signature Projects" we're so proud of.
To have a professional, reputable fence contractor for your fence project, contact Hercules Fence of Washington D.C. at (757)316-3600 or click here today to get started on your ornamental fencing design and other fence product installations.
Follow Hercules Fence on Google+, Facebook, Twitter, and LinkedIn for more.