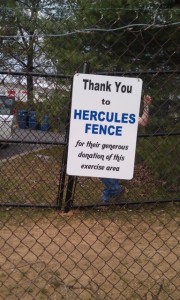 Are you preparing to hold an event? Are you in the middle of a construction project? Have you considered the use of a temporary fence to make your life easier?
Temporary fences are great ways to secure or section of an area for a limited period of time without the need to install a permit fence structure. Temporary fences are most often used within commercial settings like festivals, concerts, fairs, construction, and special events. A temporary fence can tell people where they are allowed to go or where they should stay away from. When the need for the fence has ended, the structure can be easily removed.
Some of the more commonly used temporary fences are chain link and plywood in order to provide privacy and security as well as safety during an event or project. A fence can help deter criminal activity around a construction site during off hours as well as deter civilians from walking too close to the hard hat area. Because the fences don't require any major digging for installation, they can be easily removed from the area once construction has ended. These fences can also help prevent liability to your business. A fence with a sign stating civilians should keep out can help in cases where injuries occur. Without a fence or sign, you are more likely to be found liable for the injury.
Some temporary fences can also be designed to include a gate or entry way to help control crowds during major events. Concerts and festivals tend to use temporary fences to help guide guests into areas where activities or entertainment is taking place while also keeping them separated from the crew or staff of the event.
Learn more about temporary fences from Hercules Fence today for your property. We take pride in all our fencing projects and we are 100% dedicated to meeting your temporary fencing requirements. You can count on us for in-ground chain link fencing, privacy fencing, as well as plywood fencing.
At Hercules Fence, we specialize in the installation and maintenance of wood fences throughout the Maryland, Virginia, and North Carolina areas. Wood fencing provides a natural and rustic look to complement your home. Our sales team can offer you many selections to choose from to accommodate your privacy, semi-privacy, and decorative needs, and our professionals use only the highest quality wood materials to install your fence at a price that is reasonable and affordable.
To get started with your new wood fence by Hercules Fence, call us today at 1-800-883-3623. You can also visit ourcontact page to find a full list of our locations and phone numbers.
Follow Hercules Fence today on Google+, Facebook, Twitter, and LinkedIn.