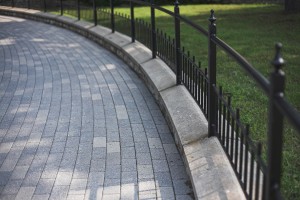 As you pass most residential properties throughout Maryland, you are more than likely to spot a fence surrounding the home. However, you may not be as likely to find a fence surrounding a commercial property. This is because many business owners feel like a fence may not be a necessary expense to their business. But, once owners realize the benefits that a commercial fence can bring, they quickly change their mind. So why is a commercial fence beneficial to your business?
Privacy- Depending on the type of business you have, privacy can be a major need. Vinyl and wood fences are great ways to provide your clients and customers with privacy as the enter and leave your property. Privacy is ideal for day cares, doctors offices, and some retail spaces.
Security- No matter what kind of business you run, security is always important. A commercial fence can help keep those inside the property safe while also deterring crime and unwanted visitors from the street. They are also great for preventing wildlife from entering your property as well.
Property Lines- It is important for business owners to understand property lines. If you are unclear about where your property lines fall, you could be liable to certain lawsuits from your neighbors. Use a commercial fence to clearly define where your property begins and ends.
Appeal- You always want your customers and clients to feel safe, welcomed, and invited as they step foot onto your property. A commercial fence can help bring an aesthetic appeal as well as provide a professional appearance for your business.
At Hercules Fence, we specialize in a number of commercial fencing projects, including:
Pool Fencing
Decks
Railings
Aluminum Balconies
Arbors and Trellises
Batting Cages
Gated Communities
Dumpsters and Generator Enclosures
With 6 different locations throughout Maryland, Virginia, and North Carolina, Hercules Fence is the perfect source for your new commercial fence. We offer an array of high quality fencing materials to meet all of your commercial fencing needs. We will discuss with you the nature of your business to determine which style of fence or fencing project will be best for your commercial property. Our materials offered include:
Chain Link
Wood
PVC Vinyl
Aluminum
Steel
Temporary Fencing
To get started with your new commercial fence by Hercules Fence, call us today at 1-800-883-3623. You can also visit our contact page to find a full list of our locations and phone numbers.
Follow Hercules Fence today on Google+, Facebook, Twitter, LinkedIn.