Going back for more than 400 years the fencing material of choice for homes and residential properties has been wood. Why? It's inexpensive and lightweight but also can easily be shaped and changed to give a property or home a wide variety of specific characteristics. With its visual appeal and utility it's no wonder wood fencing is so popular. But what kind is right for you? Here are some of the most popular varieties of wooden fencing and what they can do for your Maryland home?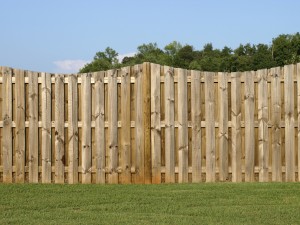 Picket
The fence of classic Americana, the picket fence features widely spaced and pointed pickets that are typically around 3-4ft high. Although not for the more security minded, they do discourage climbing, shed raindrops, and make excellent posts for vines or ivy to grow on. Picket fences are best used for enclosing a garden, pool, or yard, providing a clear but visually appealing boundary marker.
Vertical Board
Perfect for keeping away prying eyes, vertical board fences  use straight planks spaced tightly together, sometimes even overlapping, to ensure privacy and block out the wind, and can be built to any custom height.
Lattice
Crisscrossing, layered strips of lath, when overlaid, can be used to construct a beautiful lattice fence. These fences obscure view from the outside while still allowing in plenty of sunlight and air, making them great for pools, decks, and patios. They also fit well in gardens because their structure makes them ideal for any climbing plants.
Post and Rail
Featuring horizontally running boards connected to widely spaced posts, this farm staple is traditionally used for penning in livestock but can also be used to give your home a distinct boundary and a bit of that rural flavor.
Louver
Vertical Louvers are a type of wooden fence using staggered placement of angled boards to limit exposure while still allowing in light and air. When viewed straight on the boards obfuscate any view making them a great choice to surround your pool, sauna, or patio with.
Choose Hercules
At Hercules Fence, we specialize in the installation and maintenance of wood fences throughout the Maryland, Virginia, and North Carolina areas. Wood fencing provides a natural and rustic look to complement your home. Our sales team can offer you many selections to choose from to accommodate your privacy, semi-privacy, and decorative needs, and our professionals use only the highest quality wood materials to install your fence at a price that is reasonable and affordable.
To get started with your new wood fence by Hercules Fence, call us today at 1-800-883-3623. You can also visit ourcontact page to find a full list of our locations and phone numbers.
Follow Hercules Fence today on Google+, Facebook, Twitter, and LinkedIn.
Source: