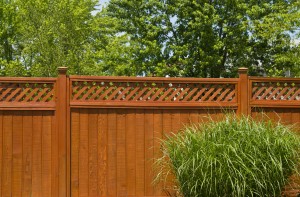 For years, one of the most popular and often seen fence materials for a residential property has been wood. With so many visual and style options, wood has been the go-to material when a homeowner wishes to update their outdoor living area with a new fence. A wood fence has also provided security and privacy to homes where other fencing materials have lacked. So which variation of a wood fence is best for your home?
Picket
If you ask most what the typical "American" home looks like, many will probably say a nice house with a picket fence. The picket fence includes pointed posts that are spread out with two or three horizontal beams. The picket fence style is not the best for security purposed, but they are known for their aesthetic appeal.
Vertical Board
A vertical board wood fence is one of the more ideal styles of wood fence for privacy. The straight planks prevent gaps in your fence, which prevents those passing by your yard to see inside. The style can also be created in a number of different heights within code to create your ideal fence.
Lattice
This type of wood fence is most often found surrounding a garden, pool, or deck. The crisscrossing of the strips allows plenty of sunlight to enter the area within the fence without allowing too much to be seen from the outside. The small gaps are ideal for plants that are climbing in a garden.
Post and Rail
This style of wood fence is most often seen surrounding a pen of livestock in a farm setting. In a residential setting, a post and rail wood fence can be used to subtly show property lines.
Choosing Hercules Fence
At Hercules Fence, we specialize in the installation and maintenance of wood fences throughout the Maryland, Virginia, and North Carolina areas. Wood fencing provides a natural and rustic look to complement your home. Our sales team can offer you many selections to choose from to accommodate your privacy, semi-privacy, and decorative needs, and our professionals use only the highest quality wood materials to install your fence at a price that is reasonable and affordable.
To get started with your new wood fence by Hercules Fence, call us today at 1-800-883-3623. You can also visit ourcontact page to find a full list of our locations and phone numbers.
Follow Hercules Fence today on Google+, Facebook, Twitter, and LinkedIn.