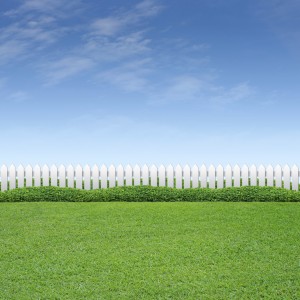 Along the Mid-Atlantic coast, homeowners are beginning to recognize the signs of fall. The leaves are beginning to change their colors and fall from the trees while the air has begun to cool and have a crisp breeze with it. With the fall weather comes the last scramble to take care of last minute maintenance errands for your home. For some this may mean mowing the lawn one last time while for others fall maintenance means caring for their vinyl fence.
While a vinyl fence has become known for being a hands-off fence, it still requires some amount of maintenance during the fall season. While your fence may not have suffered any serious damage this past summer season, it never hurts to show your vinyl fence some TLC.
When you begin maintaining your vinyl fence this fall, begin by washing your fence. Using soapy warm water, a soft sponge, and your hose, wash away the dirt and grime of the past summer season. Mud, dirt, insects, and grass could have found their way against your fence, which is why a quick wash is perfect. As you wash your fence, look over its surface to find any signs of cracks, missing screws, or broken locks and hinges. While this is not likely to occur, it is never a bad idea to make sure your fence is in ideal condition. If damage has occurred, the warm weather provides you with the perfect time to make your changes and fixes.
At Hercules Fence, we specialize in the installation and maintenance of several fence styles throughout the Maryland, Virginia, and North Carolina areas. Residential fencing provides a welcoming appearance to complement your home. Our sales team can offer you many selections to choose from to accommodate your privacy, semi-privacy, and decorative needs, and our professionals use only the highest quality materials to install your fence at a price that is reasonable and affordable. We also specialize in commercial fencing to keep your business safe and secure while also looking professional and welcoming.
To get started with fall fence maintenance by Hercules Fence, call us today at 1-800-883-3623. You can also visit our contact page to find a full list of our locations and phone numbers.
Follow Hercules Fence today on Google+, Facebook, Twitter, and LinkedIn.