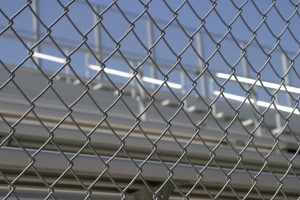 When you are homeowner, you are constantly making decisions regarding your home. From the type of siding installed on your home to the type of flowers planted in your garden to the fence you have surrounding your property, your life is filled with decisions surrounding your home. When it comes to choosing your new fence style, you are handed several options. As you begin to weight the pros and cons of all options, you could find yourself left with two choices: PVC vinyl or chain link.
In order to make your decision about your new residential fence, ask yourself three important questions.
How will my new fence look with my home and landscaping?
How strong will my new fence be against my family and weather elements?
How long will my fence last?
Take a step back and observe your home and your yard. As you consider your color scheme and landscaping layout, picture a PVC vinyl fence or chain link fence surrounding your property. While both fences can match almost any layout, a PVC vinyl fence will add a certain "American Dream" look to your property that a chain link fence can't.
While both fences are known to be strong and durable, a PVC vinyl fence is known to be a bit stronger than a chain link fence. However, you can add a layer of strength to your chain link fence with a vinyl covering. While a PVC vinyl fence tends to last long, a chain link fence runs the risk of rusting.
Choosing your Residential Fence with Hercules Fence
At Hercules Fence, we specialize in the installation and maintenance of several fence styles throughout the Maryland, Virginia, and North Carolina areas. Residential fencing provides a welcoming appearance to complement your home. Our sales team can offer you many selections to choose from to accommodate your privacy, semi-privacy, and decorative needs, and our professionals use only the highest quality materials to install your fence at a price that is reasonable and affordable. We also specialize in commercial fencing to keep your business safe and secure while also looking professional and welcoming.
To get started with fall fence maintenance by Hercules Fence, call us today at 1-800-883-3623. You can also visit our contact page to find a full list of our locations and phone numbers.
Follow Hercules Fence today on Google+, Facebook, Twitter, and LinkedIn.