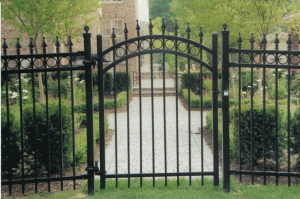 If you are searching for a new fence for your home, you don't need to be told that there are several options to choose from. There are several materials that can be picked to create the fence that you need for your home. However, it can be hard to make a decision if you aren't sure about what you want or need in a fence. Once you have that figured out, you can begin looking at the benefits of each fencing material. Now, let's explore the benefits of an aluminum fence for your home.
Security-An aluminum fence is a great way to provide security for your home. This is because the fence is difficult to climb as well as cut through. Because of the difficulty, criminal activity will be deterred.
Rack-able- This fence style is easy to install no matter how level your property is. While some fences need completely flat land, an aluminum fence will be able to work on a sloped area.
Affordable- An aluminum fence can provide you with the same look as a traditional iron fence without the high cost of an iron fence.
View- This type of fence can be designed and styled to provide security while never obstructing your view of your yard or neighborhood.
Maintenance- Because of the coating used to create an aluminum fence, maintenance is on the lower end of the spectrum. Damage doesn't occur as easily and a spray with the hose is all you need to get your fence clean.
At Hercules Fence, we have the experience in installing aluminum fencing. Our aluminum fencing can come in colors like hunter green, white, black, and bronze with pickets at 5/8″, 3/4″, and 1″. Our fences come in a number of grades and styles to suit your residential fencing needs. Hercules Fence has been a reputable name in the fencing business for over 50 years, beginning in 1955. We have grown to serve the areas of Maryland, Virginia, Washington DC, and North Carolina and take pride in the work we have done for both residential and commercial clients alike. We also take pride in our Signature Projects that include several area airports and a number of government locations.
To get started with your new aluminum fence installation, call Hercules Fence today at (800)-395-9597 or click here to find out more about our 6 convenient locations. Follow us today on
Facebook, Google+, LinkedIn, and Twitter.