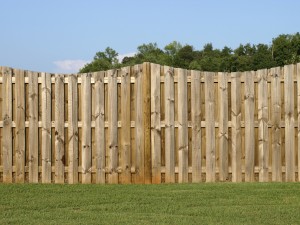 Have you found yourself stuck trying to choose between a wood fence and chain link fence?
When you began your journey in the world of fences, you found yourself faced with a number of options. However, now that you have narrowed your search down to these two options, making a final decision can be difficult. In order to choose between a wood fence and a chain link fence, a homeowner must take the time to compare the two within a number of areas.
Cost
A price tag can always be the deciding factor in any major decision. While both fence options are relatively affordable, a wood fence could end up costing your more. This will depend on the type of wood you choose and how easy or hard it is to get in. The higher quality of wood the higher the price for your fence.
Maintenance
If you don't have the time to dedicate to maintenance, you don't want to choose a difficult fence. A chain link fence will only require maintenance once the chain begins to fade while a wood fence will require frequent maintenance to prevent damage.
Issues
The number of potential problems a fence could have can also help sway a decision. A chain link fence that isn't treated with a covering can fade over time while also suffering from rust due to rain. A wood fence can fall victim to rot due to water exposure, or it could be consumed by insects if a stain isn't properly used.
Privacy
Consider how private you want to keep your home. If you don't mind individuals being able to see your yard, a chain link fence will work for you. However, if you are looking for more privacy, a wood fence will be the better option.
Your Residential Fence with Hercules Fence
At Hercules Fence, we specialize in the installation and maintenance of several fence styles throughout the Maryland, Virginia, and North Carolina areas. Residential fencing provides a welcoming appearance to complement your home. Our sales team can offer you many selections to choose from to accommodate your privacy, semi-privacy, and decorative needs, and our professionals use only the highest quality materials to install your fence at a price that is reasonable and affordable. We also specialize in commercial fencing to keep your business safe and secure while also looking professional and welcoming.
To get started with your residential fence for your home, call us today at 1-800-883-3623. You can also visit our contact page to find a full list of our locations and phone numbers.
Follow Hercules Fence today on Google+, Facebook, Twitter, and LinkedIn.