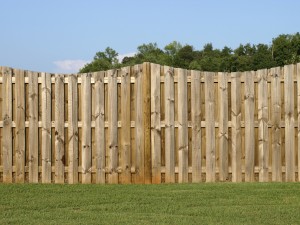 When it comes to increasing the overall value of your home, your options can become quite pricey. If you are looking for a way to help boos your home's value without breaking the bank, consider installing a wood fence. Wood fencing can increase the overall value of your home while also bringing other benefits to your home.
Value- If you are trying to sell your home, wood fencing is an excellent and easy way to increase the value of your property.
Visual Appeal- Wood fencing is easy on the eyes and can be customized to match your landscape. Wood fencing has been seen on properties for years and can be stained different colors to help blend with your home.
Privacy- Wood fences provide excellent privacy for your home. Wood fencing is installed without gaps in material and can be built tall enough to create a private and secure perimeter for your home.
Maintenance- Upkeep for a wood fence is easy. Wood fences can be stained only once every few years and cleaning only requires some soapy water and a hose.
Pet Friendly- Wood fences are great for dogs. Dogs can't see what is on the other side, which eliminates barking and escape attempts. Wood fences are also sleek and high, which makes jumping difficult for dogs of all sizes.
When you are looking to install a new wood fence for your home, look to Hercules Fence. Our technicians are trained in installing wood fences along with the maintenance and repairs, if necessary. With six convenient locations across the Mid Atlantic, Hercules Fence is the only name you need to know when it comes to wood fences. Hercules Fence also partners with the best names in the fencing industry to guarantee only the highest quality materials for our fencing projects. We specialize in residential, commercial, and security fencing projects with a number of public, private, and government clients.
To get started with Hercules Fence, call us today at 1.800.883.3623 or visit our contact page. You can also follow Hercules Fence today on Google+, LinkedIn, Twitter, and Facebook.