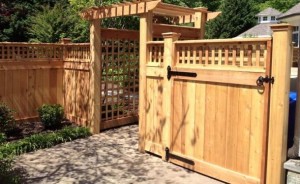 While having a fence surrounding your residential property is a very common occurrence, have you ever considered having a fence around your commercial property as well? Commercial fences can have many benefits for your business or property and come in several different project styles. Commercial fencing can provide you with benefits like:
Privacy- Depending on the type of fence you choose from, your fence can provide property for your business. Privacy fences are great for community pools and day cares.
Security- Fences are great safety sources. Railings can prevent children from falling while anti-climb fences can keep children and animals safe in a day care yard. Fences can also deter criminal activity around your business.
Property Lines- Fences can be used to show property lines for other businesses. If you are located in a congested area, fences can provide a visual reminder for where your property begins and ends.
Appeal- Fences add a level of appeal to your property. A new commercial fence will make your property look professional, safe, and inviting.
At Hercules Fence, we specialize in a number of commercial fencing projects, including:
Pool Fencing
Decks
Railings
Aluminum Balconies
Arbors and Trellises
Batting Cages
Gated Communities
Dumpsters and Generator Enclosures
With 6 different locations throughout Maryland, Virginia, and North Carolina, Hercules Fence is the perfect source for your new commercial fence. We offer an array of high quality fencing materials to meet all of your commercial fencing needs. We will discuss with you the nature of your business to determine which style of fence or fencing project will be best for your commercial property. Our materials offered include:
Chain Link
Wood
PVC Vinyl
Aluminum
Steel
Temporary Fencing
To get started with your new commercial fence by Hercules Fence, call us today at 1-800-883-3623. You can also visit our contact page to find a full list of our locations and phone numbers.
Follow Hercules Fence today on Google+, Facebook, Twitter, LinkedIn.