With a variety of styles and designs, it should come as no surprise that homeowners love the flexibility and aesthetics of a wooden fence.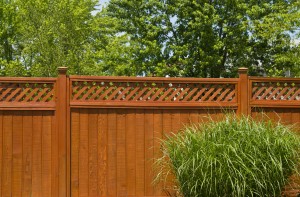 From increasing privacy to creating a visually stunning backyard, a wooden fence design for your home provides a multitude of benefits. When deciding on a fence design for your home, what are some of the most common styles and designs to consider?
Split Rail Fences
If you have a large amount of land to cover, the cost of labor and materials can quickly add up. With a split rail fence, farmers or homeowners with a lot of acreage on their property will find this type of fence design can fit a budget much easier than other types of fences. Split rail fences consist of two posts and general three long pieces of wood as the rails. Depending on your needs and budget, you can use as little as two pieces of split rail, or as many as four or five.
Paddock & Estate Fences Design
With similar principles to split rail fences, paddock fences and estate fences offer elegant options to fit most budgets. Three to five horizontal boards are set between two posts, and paddock and estate fence designs are very popular with dog and horse owners.
Picket Fences
Picket fences are always in high demand for homeowners looking for a new fence design, and with all the benefits of a picket fence it's easy to see why. Picket fences not only add a visually pleasing effect to your home, but it also provides extra privacy. For homes built with close proximity to neighboring houses, picket fences help prevent prying eyes from invading your privacy.
Stockade & Board on Board Fence Designs
If you want extra privacy, stockade fences are a great way to go. The tight placement of boards creates a solid panel, and stockade panels generally reach a height of six feet. Board on board fence designs also provide extra privacy, but because of the overlapping pattern, offer much more in terms of aesthetics. This style is very popular for town homes.
At Hercules Fence, we specialize in the installation and maintenance of several fence styles throughout the Maryland, Virginia, and North Carolina areas. Residential fencing provides a welcoming appearance to complement your home. Our sales team can offer you many selections to choose from to accommodate your privacy, semi-privacy, and decorative needs, and our professionals use only the highest quality materials to install your fence at a price that is reasonable and affordable.
We also specialize in commercial fencing to keep your business safe and secure while also looking professional and welcoming.
To get started with your residential fence for your home, call us today at 1-800-883-3623. You can also visit our contact page to find a full list of our locations and phone numbers.
Follow Hercules Fence today on Google+, Facebook, Twitter, and LinkedIn.
Sources
http://www.frederickfence.com/5-wood-fence-designs-perfect-home/