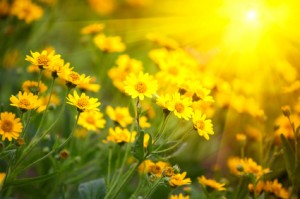 Spring is finally here and the weather is beginning to break. As the sun begins to shine through the clouds of April showers and the temperatures begin to rise, many Maryland residents will take advantage of the nice weather to enjoy their yards. However, before you can enjoy your yard, it's important to also prepare you yard for the spring and summer seasons. While spring cleaning tends to occur within your home, it's also important to take part in spring cleaning your Maryland yard.
The first step in spring cleaning your Maryland yard is to remove any debris within your yard. Using gloves and a garbage bag walk through your yard and pick up any trash, sticks, or other debris that you can find. Pull away dead leaves and weeds from your garden as well to start fresh this spring.
If you have a wood fence, spring cleaning can include checking for damage and washing your fence. Check to see if snow caused any rotting or mold growth over the past few months. Check your hinges and locks to make sure they are still in proper working order. Use a pressure washer to gently wash your wood fence and use a stain to maintain the life of your wood fence. A stain can also help protect your wood fence from any Maryland storms that may occur this season.
If you have an aluminum or vinyl fence for your Maryland yard, spring cleaning can include a quick wash and checking for damage. These fences don't typically require serious maintenance, but a wash with soap and water can help your fence looking good as new. It is also always a good idea to check your fence for damage.
At Hercules Fence, we specialize in the installation and maintenance of several fence styles throughout the Maryland, Virginia, and North Carolina areas. Residential fencing provides a welcoming appearance to complement your home. Our sales team can offer you many selections to choose from to accommodate your privacy, semi-privacy, and decorative needs, and our professionals use only the highest quality materials to install your fence at a price that is reasonable and affordable. We also specialize in commercial fencing to keep your business safe and secure while also looking professional and welcoming.
To get started with your residential fence for your home, call us today at 1-800-883-3623. You can also visit our contact page to find a full list of our locations and phone numbers.
Follow Hercules Fence today on Google+, Facebook, Twitter, and LinkedIn.