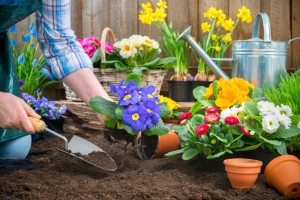 Spring has sprung, and you may have realized that you're a little behind on spring updates for your yard. If you're still looking into options, we have some great projects for you to undertake this season. Check out some of the most popular updates to transform your yard this spring:
o   A new deck. Building a deck may seem like a big undertaking, but when it's finished you won't regret it. A deck can create an outdoor oasis, or a place to host guests. Whatever the occasion, a deck will be sure to add a little something extra to your yard.
o   Install outdoor lighting. Outdoor lighting is both attractive and functional. It can serve as a safety feature as well as a way to add some great aesthetics to your space.
o   Landscape. Plant a garden, lay some mulch, fertilize your lawn, and prune your shrubs. Landscaping is one of the simplest ways to shape up your yard without any additions to the space. Landscaping is a great alternative, especially if you have a smaller yard to work with.
o   Furnish your outdoor space. If you have a patio outside that you haven't used in a while, clean it up and bring out some new chairs and tables. You might also try installing a small outdoor bar for entertaining. Patio furniture is a great way to brighten up the space and make it look more welcoming.
o   Install a fence around your yard. A fence is always a great way to update your yard. It's a safety feature for kids and pets, and a visually pleasing feature for you.
This spring, look into the updates that Hercules Fence can offer your yard. That way, you'll be able to enjoy your outdoor space that much more while the warm weather is here. So why not get started today?
At Hercules Fence, we specialize in the installation and maintenance of several fence styles throughout the Maryland, Virginia, and North Carolina areas. Residential fencing provides a welcoming appearance to complement your home. Our sales team can offer you many selections to choose from to accommodate your privacy, semi-privacy, and decorative needs, and our professionals use only the highest quality materials to install your fence at a price that is reasonable and affordable. We also specialize in commercial fencing to keep your business safe and secure while also looking professional and welcoming.
To get started with spring updates for your yard, call us today at 1-800-883-3623. You can also visit our contact page to find a full list of our locations and phone numbers.
Follow Hercules Fence today on Google+, Facebook, Twitter, and LinkedIn.