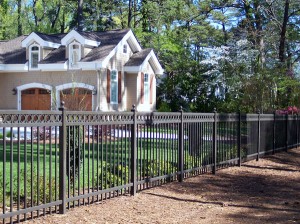 So you are now a homeowner. Typically, having a home also means having a yard. What happens if your new yard doesn't have a fence, or the fence that is currently guarding your yard might not be to your satisfaction? Looks like you have a decision to make about what fencing to have around your yard. There are many choices available to you in the world of fencing. Two of the more commonly seen fences are chain link fences and PVC fences. Which should you choose? Here are some topics to think about when making your decision:
Strength: How strong will my fence be?
Quality: How will the materials of my fence hold up?
Aesthetic Appeal: How will my fence look?
When it comes to a chain link fence, strength will not be a problem. Chain link fencing can be made with a coating to make it safer to touch and to last longer. Chain link fencing has been a prominent feature in many neighborhoods throughout the years. The coating helps make the fence more pleasing to the eye and enables the fence to coordinate with the color of the homeowner's house.
PVC fencing is becoming a more recognized staple in communities. PVC fencing is made from polyvinyl chloride which allows it to be durable and flexible. Due to its material, PVC fencing won't show every day wear and tear like discoloration, chips, or rust.
Both fencing is reasonably priced and can easily fit in with any community or neighborhood. PVC fencing could be used for a more private homeowner, while chain link fences could be used for someone who wants to see their neighbor. PVC fencing can be more costly in comparison to chain link fencing, but won't need regular maintenance like chain link fencing, possibly saving money over a longer period of time.
At Hercules Fence, we specialize in helping you make the right decision when choosing a fence. We have six locations in Maryland, Virginia, and North Carolina. We are trained to help guide you in choosing the correct materials for your fencing and to help you feel confident in the decision that you make. We understand that fencing not only adds value to your property, but can also help turn a house into a home. While browsing our website, you can see pictures of previous residential work under "Signature Projects".
Our offices are located in the Baltimore, Washington DC, Raleigh, and Richmond areas.
Give us a call at (800) TU FENCE, or check us out on Google+, Facebook, Twitter, and LinkedIn today!