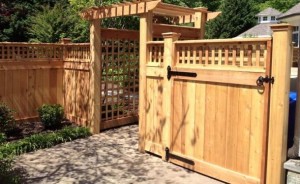 Summer is on its way, which means plenty of time outside in the sun is ahead. Maybe this is the first summer your son or daughter is old enough to play in the yard alone. This could be the summer when you decide to finally get the puppy you have always wanted, or it's possible you finally have time to replace the fence that has been on your list since the winter. How do you possibly decide which is right for you? Let Hercules Fence help.
Some things for you to consider while making your decision are:
Budget-How much am I willing to pay?
Privacy-Do I want the public to see into my yard?
Materials-Do I need to keep something in or just need decoration?
Let us also look at specific scenarios for needing a fence. If you are buying a fence for the purpose of keeping a dog within a yard, a PVC vinyl fence would be the best option. At Hercules Fence, we use only the most durable material when installing a PVC fence. This will prevent your dog from climbing over the fence or chewing on the fence if he/she gets bored. A PVC vinyl fence would also work well with children in the yard. The fence won't warp and it will be difficult for them to do any damage to the material. Climbing will also be tough to do as well. A vinyl coated chain link fence from Hercules Fence would suit a child well too. The coating prevents any rusting or damage to take place and will also prevent the child from climbing out of the yard. Anything with larger space like wood railing would be a danger to a child.
If the goal isn't to keep something in, but to decorate your yard, try a custom wood or ornamental aluminum fence. An aluminum fence compliments any type of landscaping and is able to withstand the elements with little upkeep. A custom wood fence allows you to add a rustic feel to your home, and privacy too if you choose. Wood fences can be used as privacy fences and can be treated or untreated to suit your decorative needs.
At Hercules Fence, we strive to ensure that you choose the fence that's right for you. With 6 convenient locations, you are sure to find the fence of your dreams with Hercules Fence. Call or visit the location nearest you. Offices are located in:
Jessup, MD
Manassas, VA
Raleigh, NC
Newport News, VA
Richmond, VA
Norfolk, VA
Find us on Google+, Facebook, Twitter, and LinkedIn.