At Hercules Fence, we strive to not only serve our valued customers, but our community as well. Throughout the past couple of years, our company has been presented with a number of opportunities to donate our time, materials, and labor to several charitable causes throughout the regions we serve. We embrace and enjoy each volunteer project we participate in and are proud of the work and materials we are able to donate on each occasion.
In September of 2013, Hercules Fence was able to partner with an Eagle Scout troop under the Boy Scouts of America program. Ben Bieryla, a scout candidate from Troop 52 out of Front Royal, Virginia, took on a project for the Humane Society of Warren County. Ben was to lead a group of dedicated volunteers as they built a new addition to the animal holding area of the Humane Society. This addition would help the Humane Society shelter and heal a number of abandoned, neglected, and abused animals in the area. Hercules Fence was happy to donate quality fence materials to help make this project a success.
In June of 2014, Hercules Fence was able to team up with Shirley Contracting's Metro Earthworks Division to help with an outdoor renovation project in Virginia. Our two contracting companies partnered with the Ronald McDonald House Charities of Greater Washington DC to help with the Ronald McDonald house of Northern Virginia, which can be found adjacent to Fairfax Hospital. Hercules Fence was able to donate the installation of the new pressure treated fence and gates surrounding the Ronald McDonald House.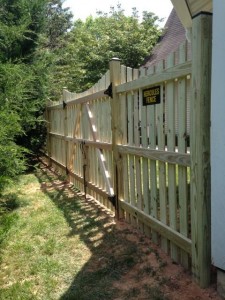 At Hercules Fence, we specialize in the installation and maintenance of several fence styles throughout the Maryland, Virginia, and North Carolina areas. Residential fencing provides a welcoming appearance to complement your home. Our sales team can offer you many selections to choose from to accommodate your privacy, semi-privacy, and decorative needs, and our professionals use only the highest quality materials to install your fence at a price that is reasonable and affordable. We also specialize in commercial fencing to keep your business safe and secure while also looking professional and welcoming.
To get started with your new fence for your home, or to ask about our past community projects, call us today at 1-800-883-3623. You can also visit our contact page to find a full list of our locations and phone numbers.
Follow Hercules Fence today on Google+, Facebook, Twitter, and LinkedIn.