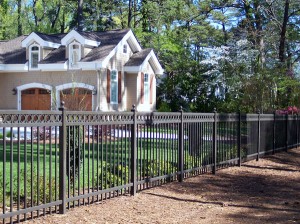 When it comes to choosing a new fence for your home, the options can be overwhelming. Each type of fence that is available has something offer, and narrowing your choices can be difficult. A smart thing to do before buying a fence is to decide what exactly you want out of your fence. You then compare your needs to what each fence can offer you. An excellent option in fencing is aluminum fencing. Aluminum fences have many benefits that should be considered when deciding on a new fence.
Security- Aluminum fencing is difficult to penetrate. Aluminum fencing is not easily cut and the picket design makes it difficult to climb.
Rack-able- Aluminum fencing can fit with the form of your land if it slopes or raises.
Affordable- Aluminum fencing is nowhere near the cost of a traditional iron fence and high quality materials aren't outrageously priced.
View- Aluminum fencing can be designed to not obstruct your view and is appealing to the eye.
Maintenance- Aluminum fencing is low in the ways of maintenance and will last longer than most fences. The powder coating used to finish aluminum fencing doesn't fade quickly and prevents scratches.
Rusting- Aluminum doesn't rust or deteriorate like other fencing materials.
At Hercules Fence, we have the experience in installing aluminum fencing. Our aluminum fencing can come in colors like hunter green, white, black, and bronze with pickets at 5/8″, 3/4″, and 1″. Our fences come in a number of grades and styles to suit your residential fencing needs. Hercules Fence has been a reputable name in the fencing business for over 50 years, beginning in 1955. We have grown to serve the areas of Maryland, Virginia, Washington DC, and North Carolina and take pride in the work we have done for both residential and commercial clients alike. We also take pride in our Signature Projects that include several area airports and a number of government locations.
To get started with your new aluminum fence installation, call Hercules Fence today at (800)-395-9597 or click here to find out more about our 6 convenient locations. Follow us today on
Facebook, Google+, LinkedIn, and Twitter.